Did your commute take significantly longer than usual this morning? If you watched this morning's news or glanced at your local news station's website, you probably heard or saw that there was a horrific pedestrian accident in the Studio City area. Police received an emergency call around 6:11 a.m. from a driver who reported that a pedestrian had been struck by a vehicle in an eastbound lane of the 101 Freeway. It is unclear as to whether the pedestrian was walking or riding a bike, as a bicycle was found near the victim on the freeway. The victim's age and name have not yet been released by officials. The eastbound lanes of the 101 were closed for roughly two hours, making today's commutes stressful and prolonged for thousands of Los Angeles residents. According to the California Highway Patrol, all of the 101 Freeway's lanes had reopened by about 9:30 a.m.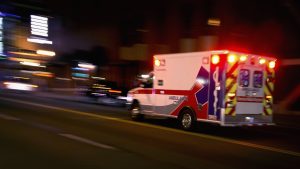 We will know more information about this tragedy in the coming days, but it is safe to conclude that the streets and highways of Los Angeles continue to be chaotic and dangerous. This isn't just a sentimental observation made in the light of a tragic local event – the data show that the streets and highways of California are more unsafe than ever before, and the streets of Los Angeles are particularly dangerous for pedestrians and cyclists alike.
Pedestrian deaths in Los Angeles increased significantly in 2017 according to a recent article from the Los Angeles Times, and this is despite the fact that Los Angeles city officials have been actively working to reduce pedestrian accidents and fatalities. In fact, the number of pedestrian deaths in Los Angeles has risen 82 percent since 2015!
Los Angeles transportation officials report that they will be actively working to create new and innovative policies aimed at promoting safe and careful driving, but it is unlikely that we will see a substantial improvement at any point in the near future. Given this fact, it is more important than ever to keep yourself safe while on the road, both as a driver and as a pedestrian.
If you have been injured on the streets of Los Angeles, either as a pedestrian or as a cyclist, be sure to read our previous post about what to do if you've been struck by a car. While we understand that you will be frazzled and shocked if this ever happens to you, following our advice closely could maximize your chances of receiving compensation for your injuries. If you have been hit by a car in Los Angeles, the best thing that you can do for yourself is to call an auto accident attorney from Los Angeles City Law. Our auto accident attorneys will work to get you the compensation you deserve, and we do not recover any attorney fees until we win your case. We have won 98 percent of our cases, so contact our Los Angeles law firm at 866-522-4895 to schedule a free consultation.