Even if you only casually watch the news, you've probably heard about the recent Uber accidents in Los Angeles and around California. 2018 began on a dark note for six Los Angeles residents when an intoxicated driver collided with their Uber on in the early hours of New Year's Day. Three more Uber passengers were injured almost a month later, when a multi-car pileup involving six vehicles shut down the 101 Freeway overnight. A San Francisco family had their lives changed forever when an Uber driver hit them as they began crossing the street on on December 31, 2013. Their daughter, Sophia, was killed at the age of six, and their four-year-old son was injured but survived. These cases are by no means outliers, and we can only expect that these events will become more frequent as Uber and other ridesharing services become more popular.
In this first post in a multi-part series, we will answer some of the most common questions we receive regarding Uber accidents and injuries. Contact LA City Law today if you've been injured in an Uber, and our auto accident attorneys will fight to get you the justice you deserve.
Can I Sue Uber For An Accident?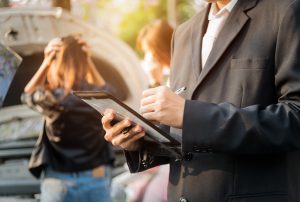 As is the case with most legal matters, the answer is, "it depends." Ridesharing services are subject to different laws and regulations, and a variety of factors can affect the outcome of a legal case against a rideshare company. The most important thing to know is this: you are considered an innocent bystander whenever you use Uber, and your status as such requires your driver to be as conscientious as possible when transporting you. If your Uber driver was at fault for an accident and you need to file a lawsuit to cover damages, you will directly sue the driver. The reason for this is that while Uber is a rideshare company, their drivers are classified as independent contractors. Medical bills tend to be expensive, and it's unlikely that your driver will be able to cover all of your damages. Uber has recently enacted a $1 million liability policy for accidents in which the Uber driver is at-fault and in which the Uber application is active. If your Uber driver had their application turned off at the time of the accident, you will directly deal with the driver's insurance company.
If you find yourself in a situation similar to the New Year's Day crash noted above, in which a careless or intoxicated driver hits your vehicle, your options become slightly more complicated. If the at-fault driver does not have insurance or does not have a policy that will cover your damages, you will need to find out what sort of claim you can file against Uber's insurance.
It's in Uber's interest to prevent you from getting as much compensation as you deserve, and it is therefore imperative that you have an experienced and passionate auto accident attorney on your side when seeking compensation. LA City Law has helped thousands of Los Angeles residents obtain the compensation and justice they deserve. If you have been injured in an auto accident involving an Uber or ridesharing service, contact our auto accident and injury lawyers today to schedule a no-cost case evaluation.